Glowing in the Dark
Jason Jacques Gallery
29 East 73RD Street
New York, NY 10021
www.jasonjacques.com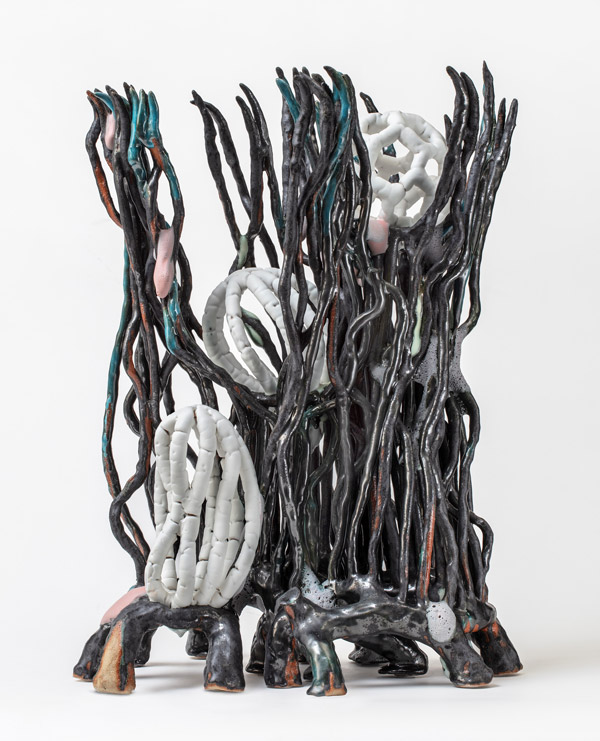 Habitat 3D #2057, H 64 x 50 x 40 cm, 2020
Photo: Ole Akhøj









BIOTOPE Bente Skjøttgaard
Ann Linnemann Galleri - Contemporary Ceramics Copenhagen
Kronprinsessegade 51, Nyboder
1306 København K
www.annlinnemann.blogspot.com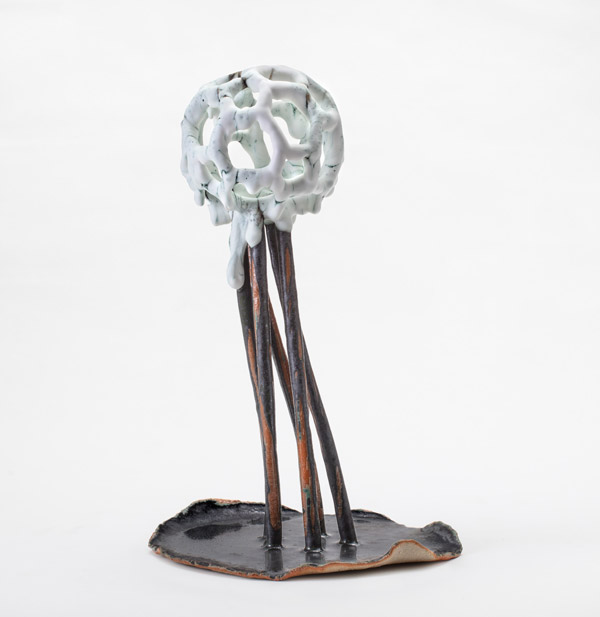 Carbon60 #2015, H 42 ø 25 cm, 2020
Photo: Ole Akhøj











All Solid melts into Air
Anne Damgaard and Bente Skjøttgaard
Kunstpakhuset
Lille Torv 5
7430 Ikast
www.kunstpakhuset.dk








8 Marts Woman Nature
Store Kongensgade 118
1264 København K
http://collaborations.dk





Metamorphosis #1790 and 1794Stoneware and glaze, 2017
H 40 x ø 20 cm
Photo: Ole Akhøj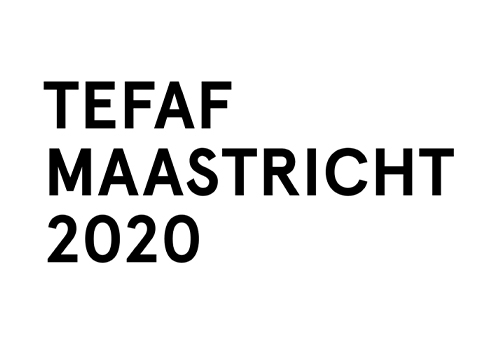 MECC Maastricht Forum 100
6229 GV Maastricht
The Netherlands
www2.tefaf.com

Represented by Jason Jacques Gallery, New York
www.jasonjacques.com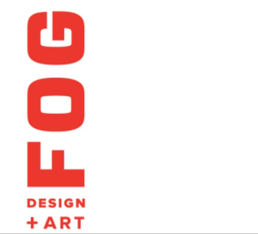 FOG Design+Art
Fort Mason Festival Pavilion San Francisco
www.fogfair.com/

Represented by Jason Jacques Gallery, New York
www.jasonjacques.com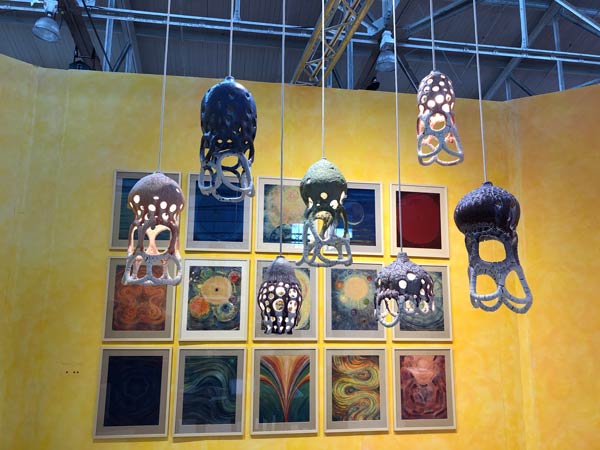 Lamps, stoneware and glaze, Bente Skjøttgaard 2019 / Paintings: "Twelve Moods by
Rudolf Steiner", Karl George Schoettle 1940-50






Regarder les nuages
Georges Maroniez pochades/ Bente Bente Skjøttgaard céramiques contemporaines
musée des beaux-arts de Cambrai
15 rue de l'épée 59400 Cambrai FR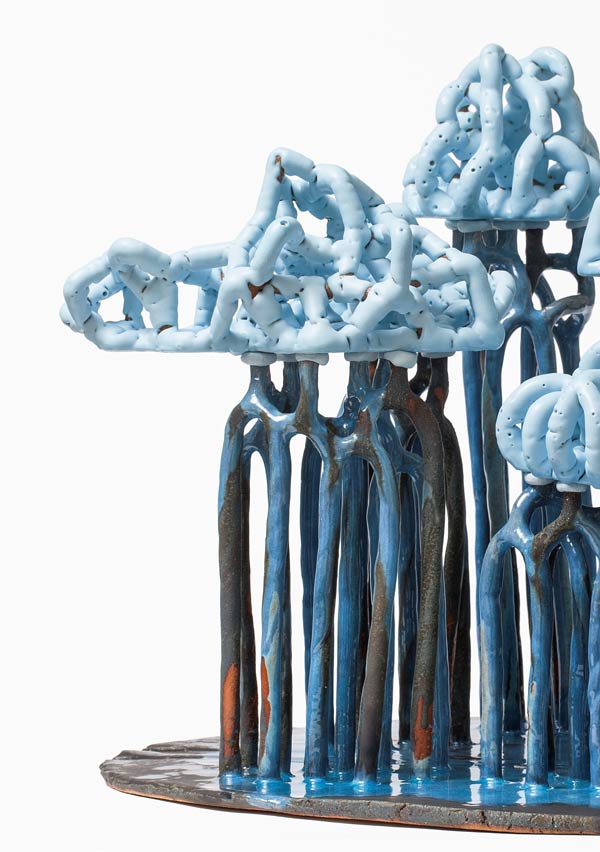 Weather Set no 1341, 2013
Photo: Ole Akhøj







Politikkens lørdagstema om 10érne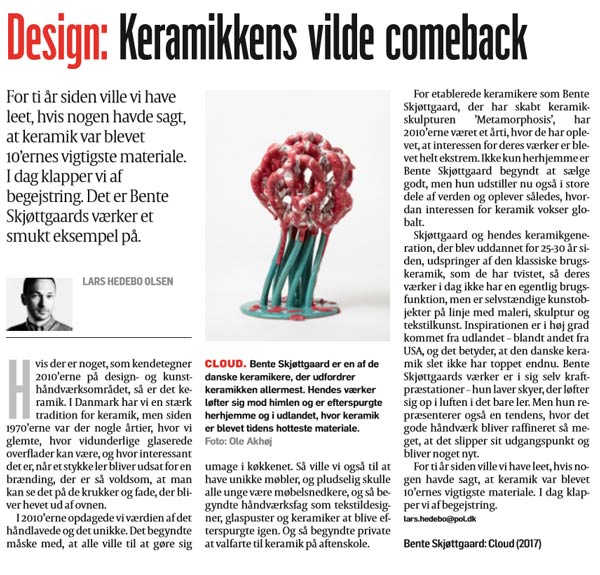 100 års dansk keramik
Private Collection of Carsten Bagge Laustsen
Kunstforeningen Det ny Kastet
Det Gamle Rådhus
Storetorv 6, 1 sal
7700 Thisted








Salon Art + Design
Park Avenue Armory, NYC
Represented by Side Gallery Barcelona
side-gallery.com/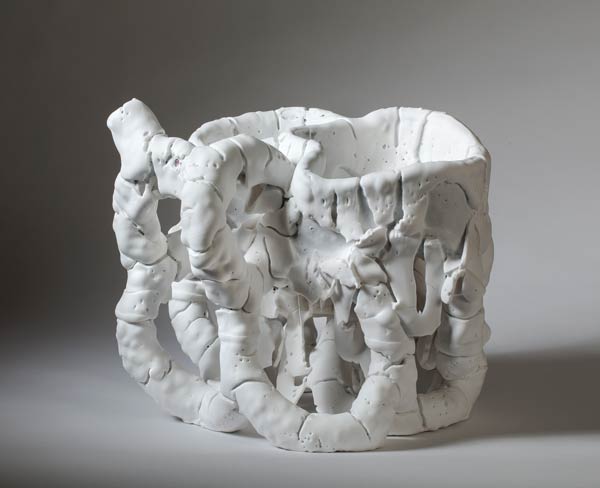 White species no 1601
Photo: Ole Akhøj








Researchtrip USA and Canada: NYC, Syracuse, Alfred, Toronto, Houston.
Supported by Statens Kunstfond and Danmarks Nationalbanks Jubilæumsfond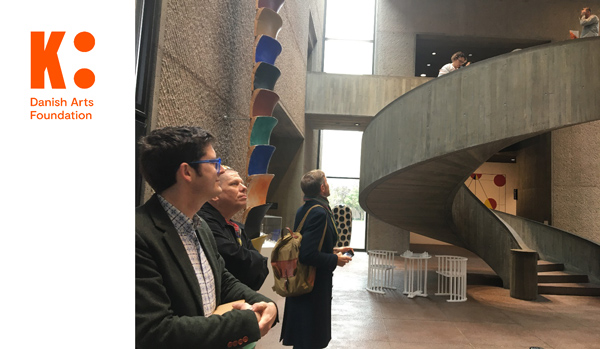 EVERSON MUSEUM OF ART Syracuse NY, USA






PAD London Art + Design
Berkeley square W1 London

Represented by Side Gallery Barcelona
www.side-gallery.com/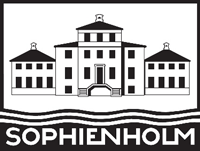 100 års dansk keramik
Loans of Denmark's leading private collectors.
Curator Carsten Bagge Laustsen
Sopienholm, Nybrovej 401, 2800 Kgs Lyngby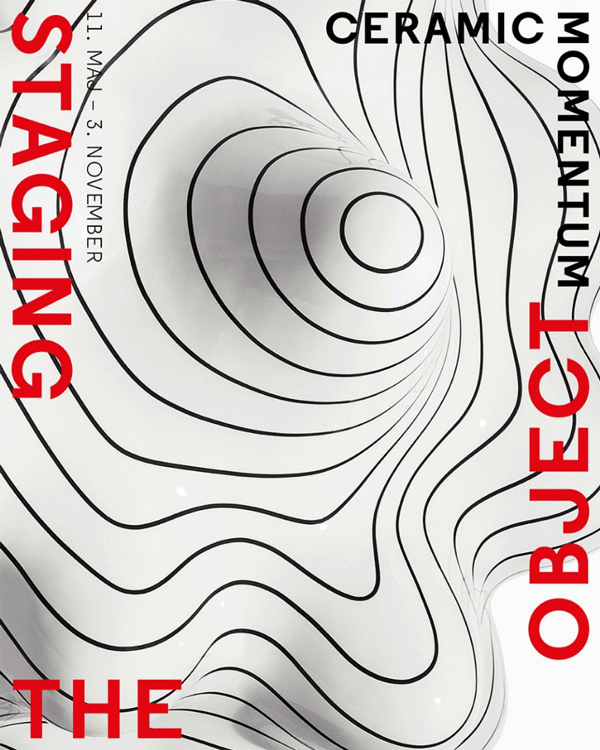 CERAMIC MOMENTUM - Staging the Object
CLAY Museum of Ceramic Art Denmark
Grimmerhus
Kongebrovej 42
DK-5500 Middelfart
www.claymuseum.dk/udstilling/ceramic-momentum-staging-the-object/
Curated by Copenhagen Ceramics
https://copenhagenceramics.blogspot.com/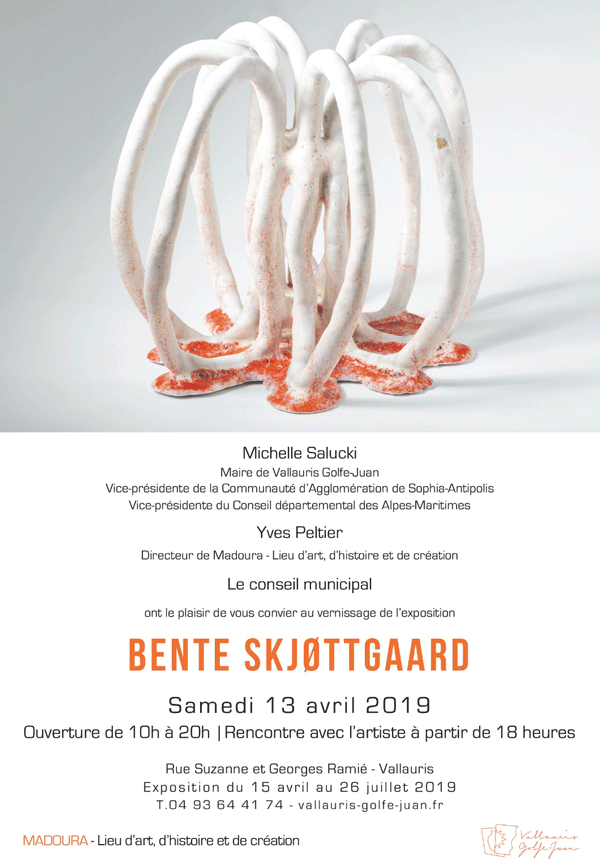 Curated by Galerie Maria Lund
www.marialund.com//









reCLAYmed
Berg Gallery AB Hälsingegatan 43
113 31 Stockholm SWEDEN
www.berggallery.se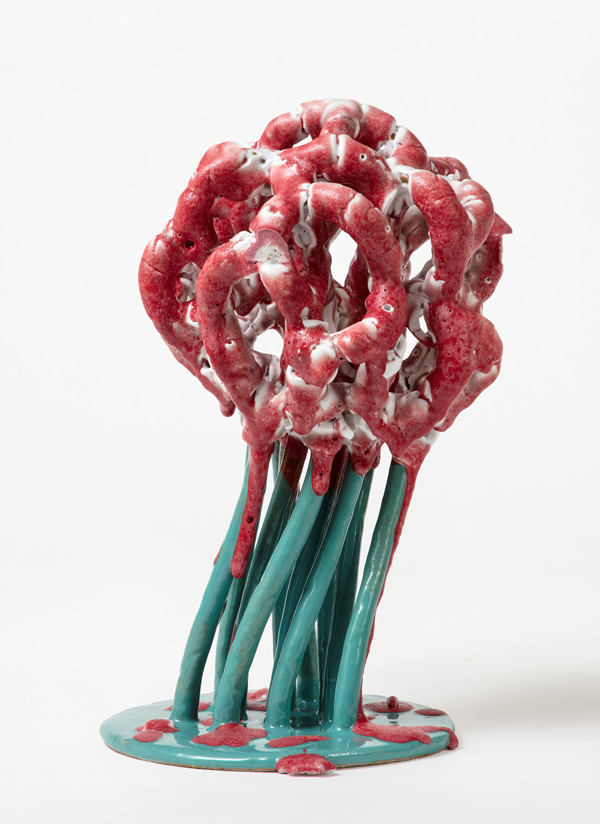 Cloud #1796 Photo: Ole Akhøj








Gabriel&Guillaume
Beirut 2019
District//S in Downtown, Beirut, Lebanon
www.gabrieletguillaume.com








Turn me on... Now 80 Enric Granados Barcelona Spain www.side-gallery.com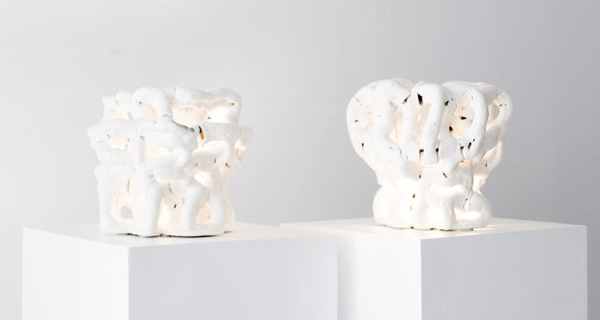 COLLECT London
Crafts Council

Representet by Gallery Format Oslo
www.format.no/collect-2019






MAD - Musée des Art Décoratifs, Paris
Purchased with funding from the New Carlsberg Foundation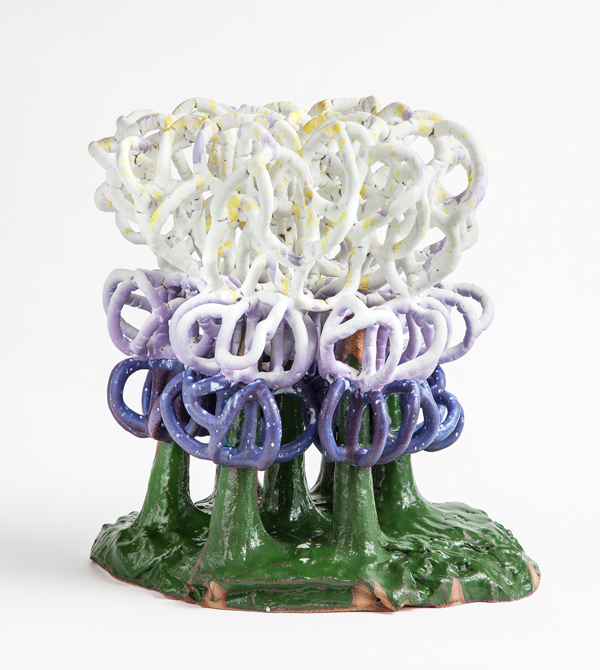 Cumulonimbus no 1620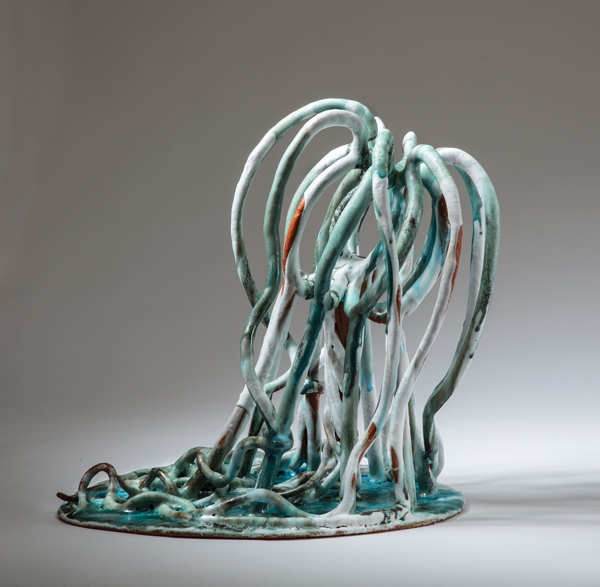 Mnemiopsis leidyi #1843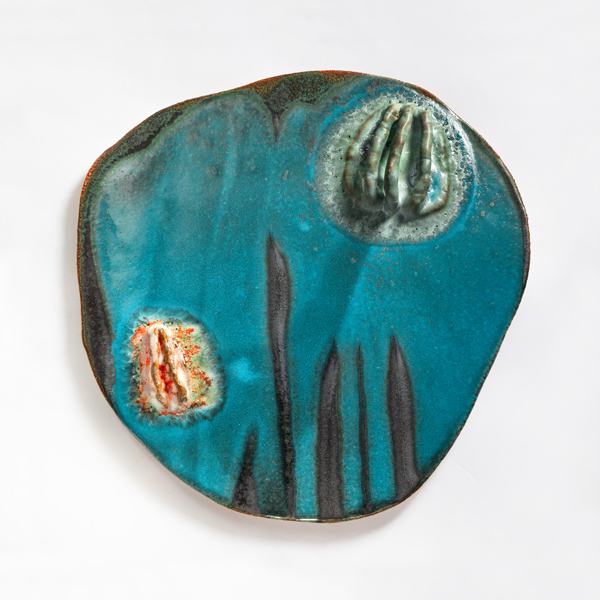 Mnemiopsis leidyi #1869
Photos Ole Akhøj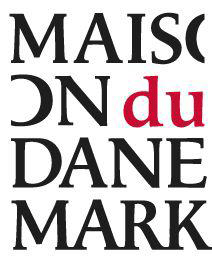 100 Years of danish Ceramics
Loans of Denmark's leading private collectors. Curator Carsten Bagge Laustsen
Maison du Danemark
142 avenue des Champs-Elysées
75008 Paris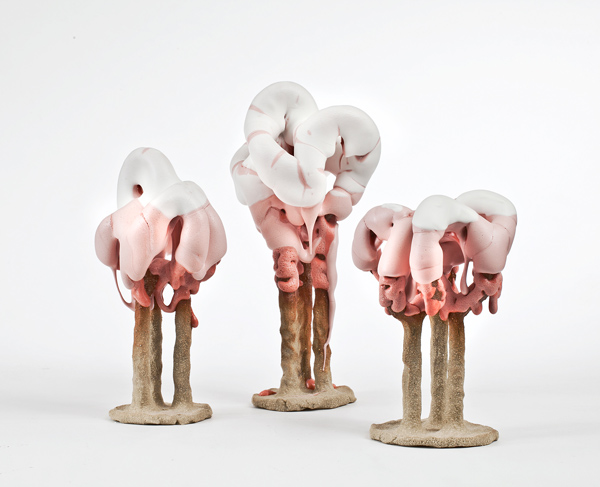 Pink Clouds 2010
Photo Ole Akhøj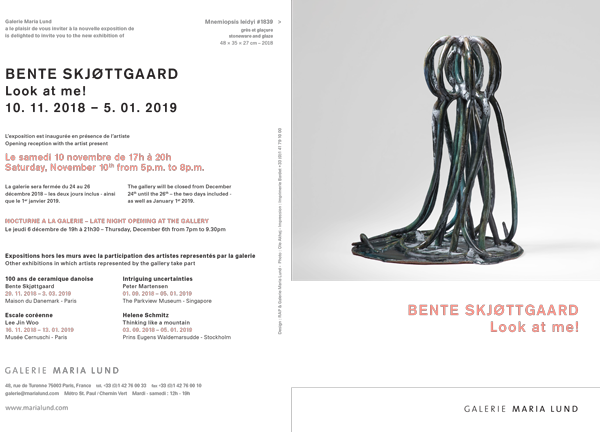 Look at me!
Galerie Maria Lund
48 rue de Turenne 75003 Paris
www.marialund.com








PRESENT
Musée & Jardins Van Buuren
41 Avenue Léo Errera
1180 Bruxelles
www.museumvanbuuren.be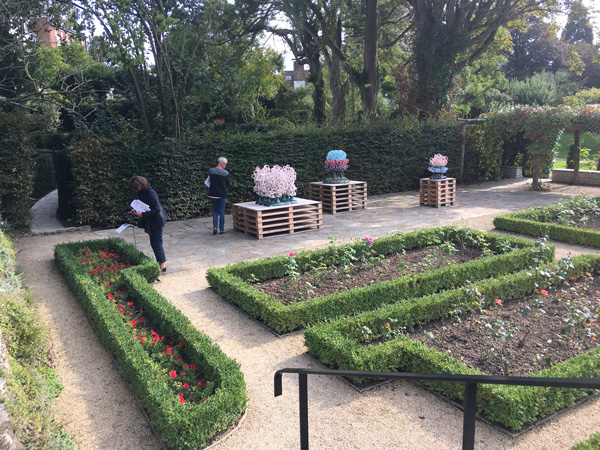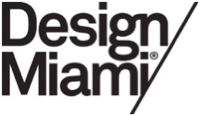 Design Miami/Basel
http://basel2018.designmiami.com/design-galleries/view/pierre-marie-giraud12
Represented by Pierre Marie Giraud, Belgium







MESTERVÆRKER Jubilæumsudstilling
Ann Linnemann Galleri
Contemporary Ceramics Copenhagen
Kronprinsessegade 51
1306 København K
https://annlinnemann.blogspot.com/2018/02/mestervrker-10-ars-jubilum-marts-april.html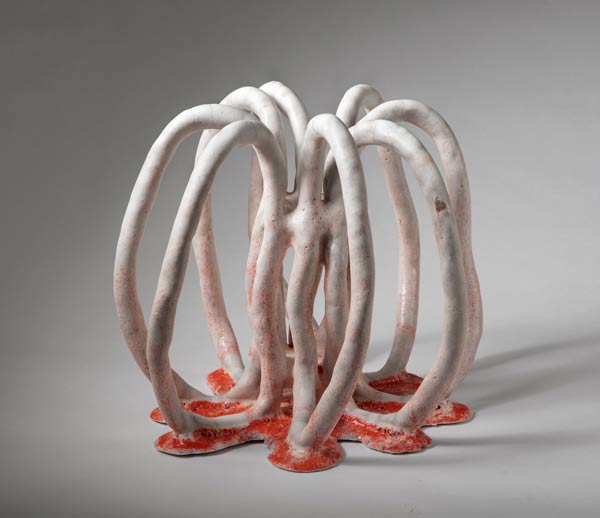 Mnemiopsis leidyi #1812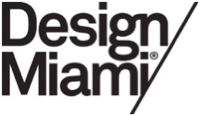 Design Miami/Basel, Miami Beach, USA
http://miami2017.designmiami.com/
Represented by Pierre Marie Giraud, Belgium







CLAYTIME!
80 Enric Granados
08008 Barcelona Spain
http://side-gallery.com/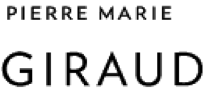 NATURE OF GLAZE
Pierre Marie Giraud
7, rue de Praetere
1050 Brussels, Belgium
http://www.pierremariegiraud.com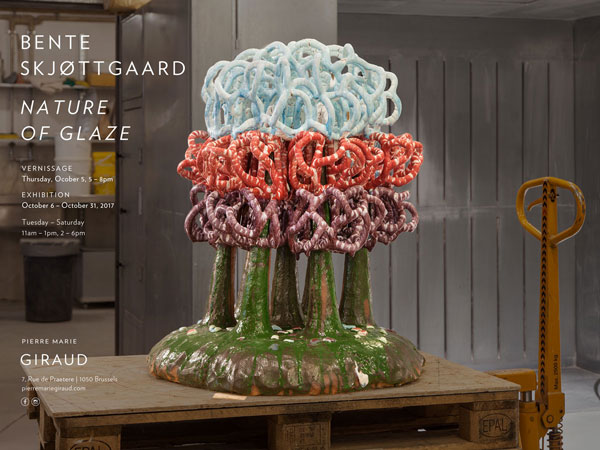 The work is made during residency at the Danish Art Workshops 2016
Photo: Ole Akhøj








GRAND DESIGNS - CLEVER HANDS
Grimmerhus
Kongebrovej 42
DK-5500 Middelfart
Video about my works under construction at Tommerup Keramiske Værksted:
http://formater.claymuseum.dk







TRESOR contemporarycraft
Messe Basel, Claragraben 114
CH-4057 Basel
http://tresor-craft.com/
Represented by Køppe Contemporary Objects, Copenhagen
http://www.contemporary-objects.com/








THE STARS, THEY ARE
Berg Gallery
Birger Jarlsgatan 67
113 56 Stockholm
https://www.berggallery.se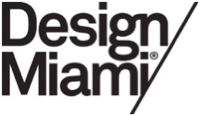 Design Miami/ Basel
Hall 1 Süd, Messe Basel
Switzerland
http://basel2017.designmiami.com/
Represented by Pierre Marie Giraud, Belgium






ULTIMATE IMPACT
5 phenomena in nordic design culture
Rundetårn
Købmagergade 52A, Copenhagen
http://www.rundetaarn.dk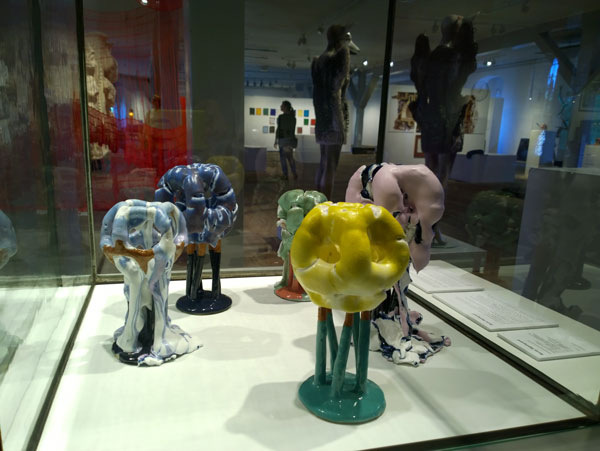 OBJECTS, MY FRIENDS
Grimaldi Forum
10 Av. Princesse Grace
98000 Monaco
http://artgeneve.ch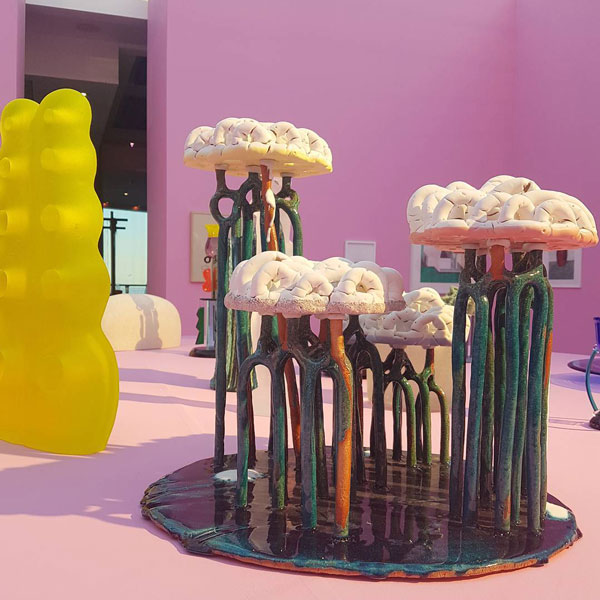 GLAZE, GLASUR: kemi - masse - myte
Sophienholm
Nybrovej 401, 2800 Kgs. Lyngby
http://www.sophienholm.dk
and
Hempel Glasmuseum
Annebjerg Stræde 2
DK 4500 Nykøbing Sj
http://hempelglasmuseum.dk






Special exhibition: Modern Masters 2017
International Trade Fair in Munich
Fairground Messe München
Halle B1, Handwerk & Design




Metamorphosis # 1/5, 2017
Photo: Ole Akhøj







NUAGES
Galerie du WCC-BF
Site des Anciens abattoirs 17/02 rue de la Trouille, 7000 Mons, Belgique








NUAGES
Centre Céramique de Giroussens
7 Place Lucie Bouniol, 81500 Giroussens, France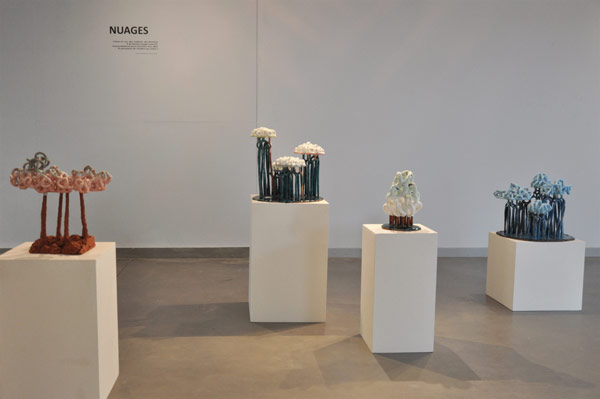 Residency at the Danish Art Workshops http://bit.ly/2d3vYIR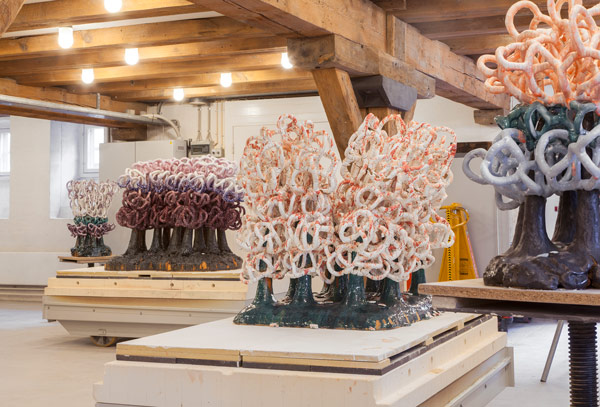 Photo: Ole Akhøj







Design Miami/Basel, Basel, Switzerland
basel2016.designmiami.com


Represented by Galerie Pierre Marie Giraud, Belgium


7, rue de Praetere
1050 Brussels | Belgium
www.pierremariegiraud.com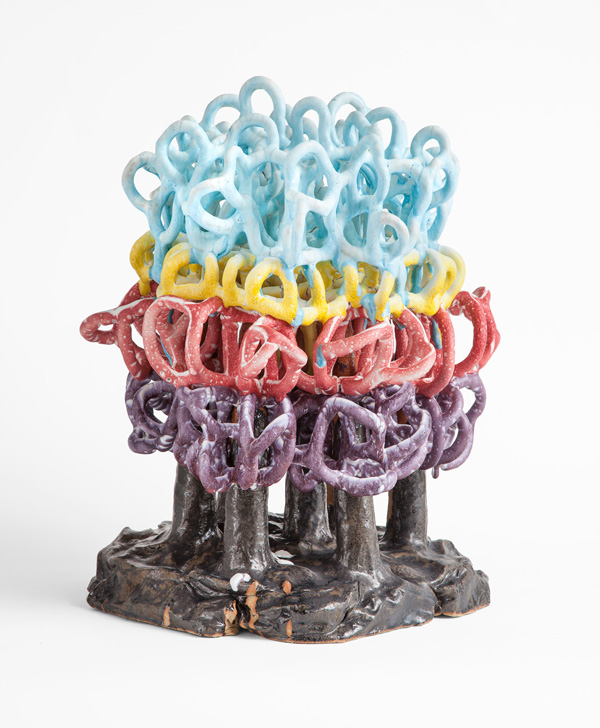 Cumulonimbus no 1619
H 64 x 50 x 50 cm
Stoneware and glaze, 2016
Photo: Ole Akhøj

The works are made at the Danish Art Workshops
www.svfk.dk






The residency is supported by The Danish Arts Foundation







Galleria Salvatore Lanteri, Via Giulio e Corrado Venini 85, 20127 Milano
www.gallerialanteri.com







Galerie Maria Lund 48, rue de Turenne, 75003 Paris
www.marialund.com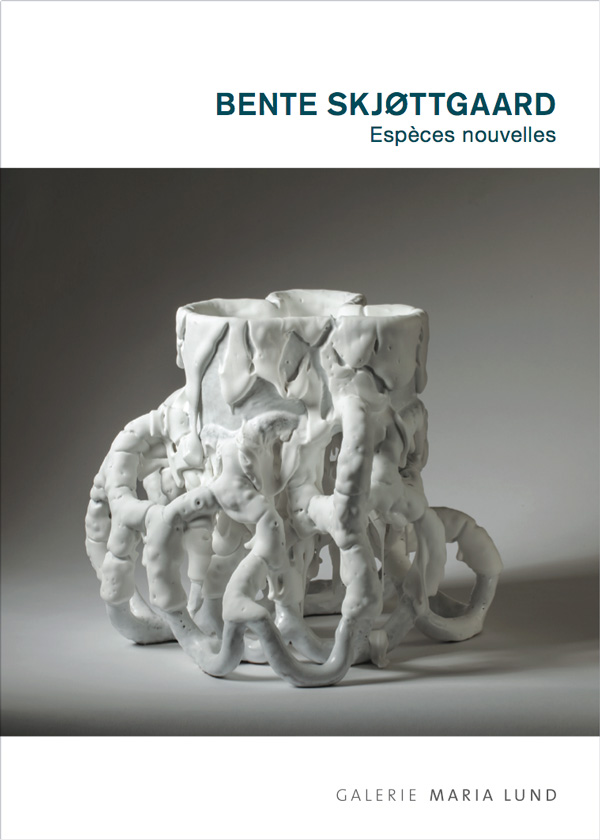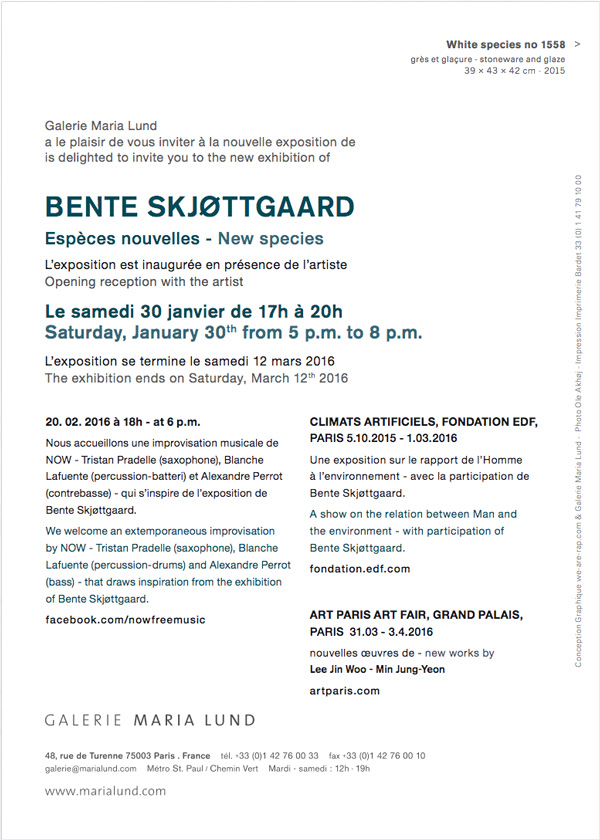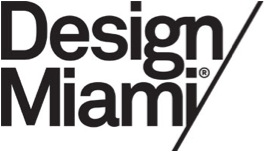 Meridian Avenue & 19th Street, Miami Beach, USA
Represented by Pierre Marie Giraud, Belgium
www.pierremariegiraud.com
www.designmiami.com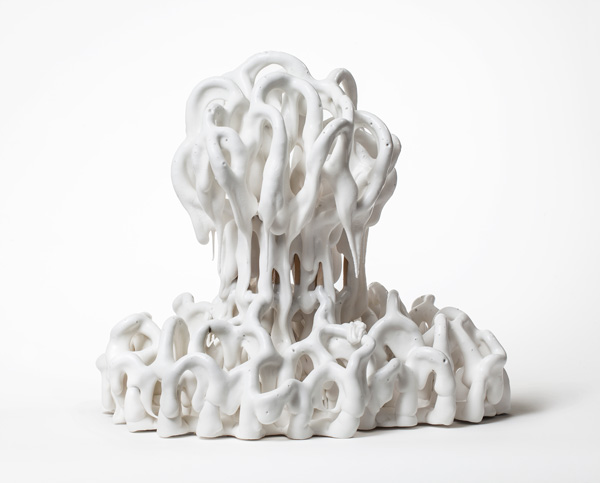 White cloud no 1513
Stoneware and glaze, 2015
H 48 x 53 x 39 cm
Photo: Ole Akhøj







Random Growth, Contemporary European ceramics curated by Sarah Myerscough
PHOS ART + DESIGN
15-16 Brooks Mews, Mayfair, London W1K 4DS
www.phosartanddesign.com







Climats Artificiels
Espace Fondation EDF, 6 rue Récamier 75007 Paris
fondation.edf.com







14E PARCOURS CÉRAMIQUE CAROUGEOIS
Biennale Internationale de Céramique contemporaine
Cermin de Grange-Collomb 38, 1227 Carouge, Suisse
www.parcoursceramiquecarougeois.ch







Many a Slip
MARSDEN WOO GALLERY
23 Charlotte Road, London EC2A 3PB
www.marsdenwoo.com







Glitter and Glaze
Superobjekt Gallery
Borgergade 15 E, 1300 København K

www.superobjekt.com







Design Miami/Basel, Basel, Switzerland
Represented by Galerie Pierre Marie Giraud, Belgium



7, rue de Praetere
1050 Brussels | Belgium
www.pierremariegiraud.com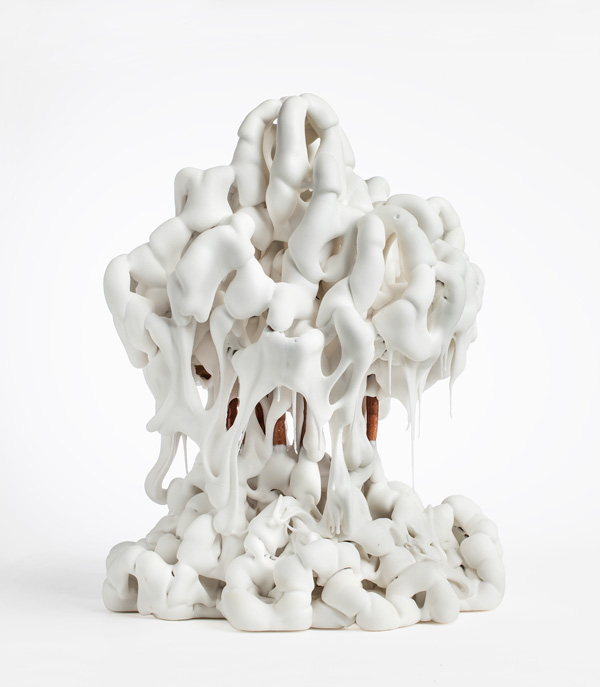 White cloud no 1509
Stoneware and glaze, 2015
H 46 x dia 34 cm
Photo: Ole Akhøj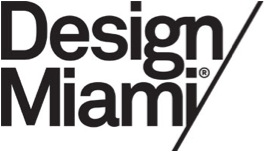 Design Miami 2014, Miami Beach USA
Represented by Galerie Pierre Marie Giraud, Belgium
www.designmiami.com








Formed
Djanogly Art Gallery, Lakeside Arts University Park, Nottingham UK
www.lakesidearts.org.uk








Pierre Marie Giraud
7, rue de Praetere
1050 Brussels, Belgium
www.pierremariegiraud.com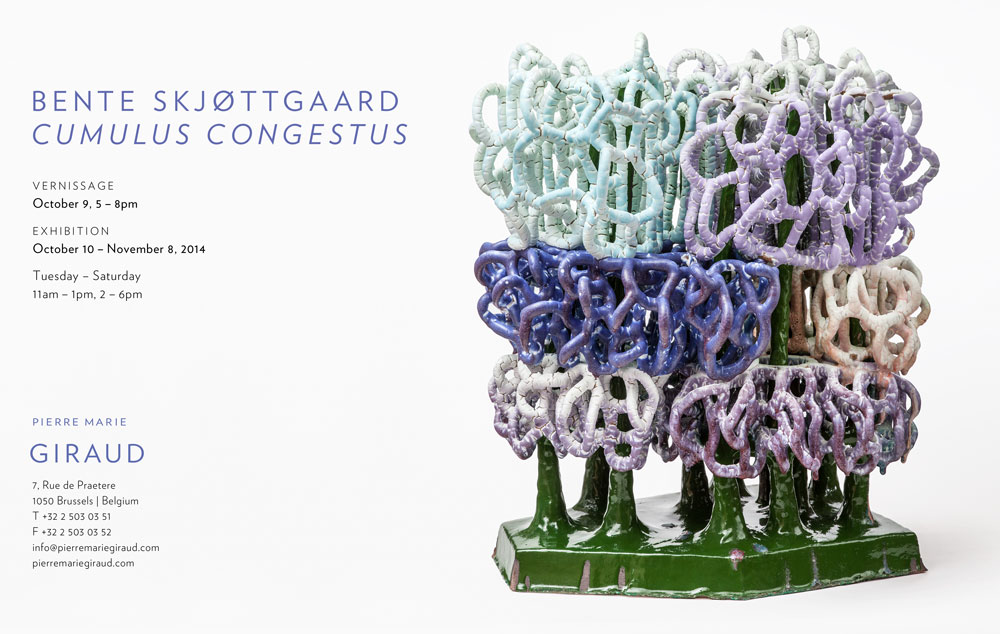 10,000 Hours – What is Talent?
TRAPHOLT - Museum of Modern Art, Applied Art, Design and Architecture
Æblehaven 23
Dk-6000 Kolding
http://en.trapholt.dk/exhibitions/10,000-hours-what-is-talent








www.copenhagenceramics.com








The Ceramic Object





Galleri Format Oslo
Rådhusgaten 24
0151 Oslo
www.format.no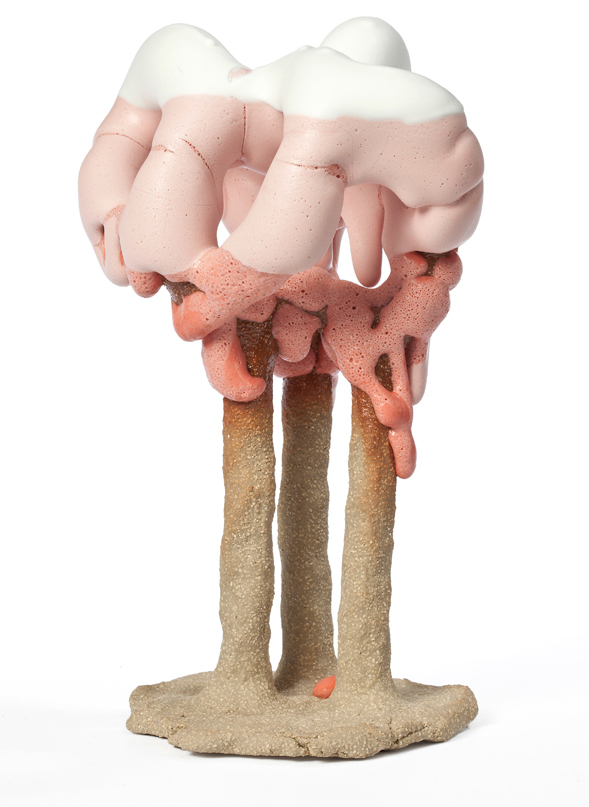 Cloud no. 1001-8, 2010
Stoneware and glaze, hand built
25 x dia.16 cm
Photo: Ole Akhøj






ART 14 LONDON

Scandinavian Matters
Galerie Maria Lund
STAND K5
Olympia Grand Hall, Kensington, London
www.artfairslondon.com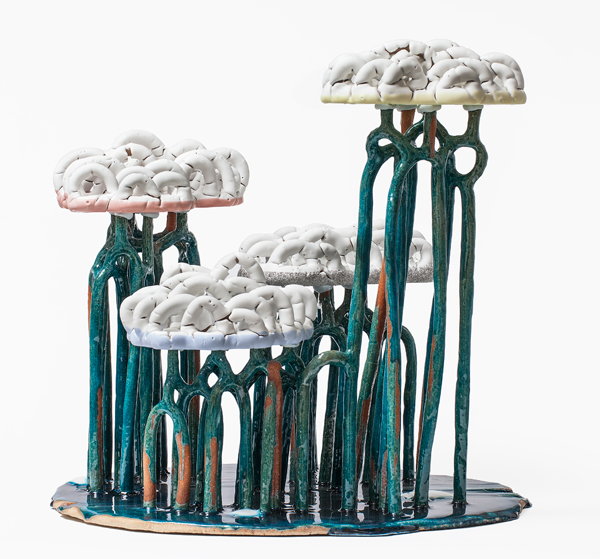 Weather Set no 1343, 2013
Stoneware glaze and epoxy
H 49 x 50 x 46 cm
Photo Ole Akhøj








Design Miami, Miami Beach USA
Represented by Galerie Pierre Marie Giraud, Belgium





7, rue de Praetere
1050 Brussels | Belgium
www.pierremariegiraud.com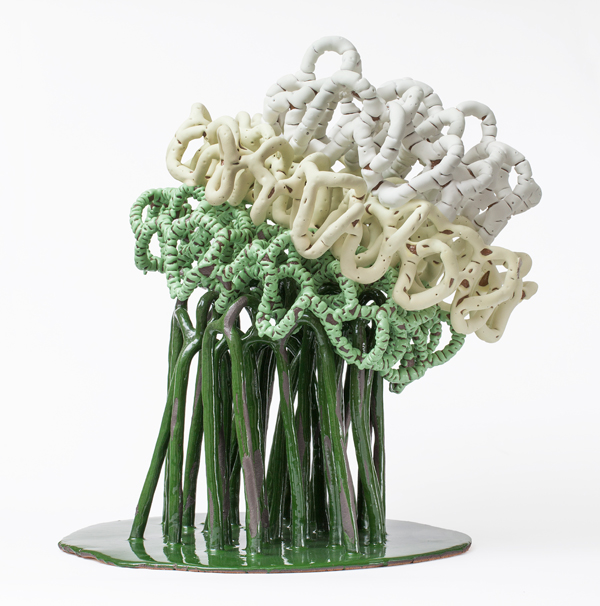 Green yellow white cloud no 1342
Stoneware and glaze, 2013
H 54 x dia 43 cm
Photo: Ole Akhøj








GALERIE MARIA LUND
BENTE SKJØTTGAARD
Rest area – Aire de repos
sculpture

OPENING:
Saturday September 21 2013 from 5 pm to 8 pm
The artist will be present
A rest area is an interlude on the road - an intersection between the landscape
and a gist of contemporary civilization. It is the place where the traveler
finds his own speed, the contact with the ground and maybe a moment to dream
and look at the sky.
GALERIE MARIA LUND
48 rue de Turenne - 75003 Paris, France
tél. (+33) 01 42 76 00 33
fax (+33) 01 42 76 00 10
galerie@marialund.com
www.marialund.com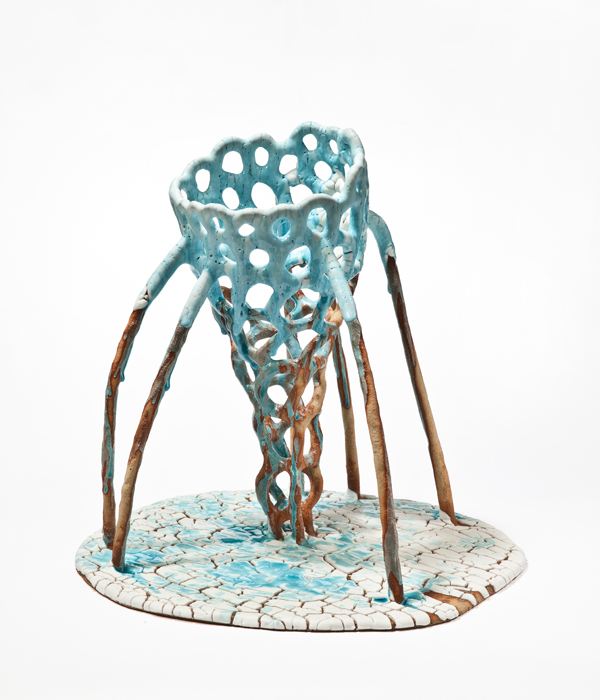 Turbulence no 1334
h. 43 x dia. 43cm
stoneware and glaze
2013
Photo Ole Akhøj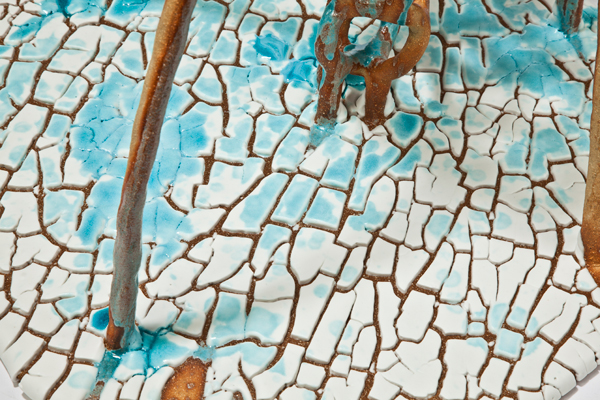 Turbulence no 1334 (detail)
Photo Ole Akhøj










Terres: Copenhagen Ceramics Invites – On show at Galerie Maria Lund in Paris
www.marialund.com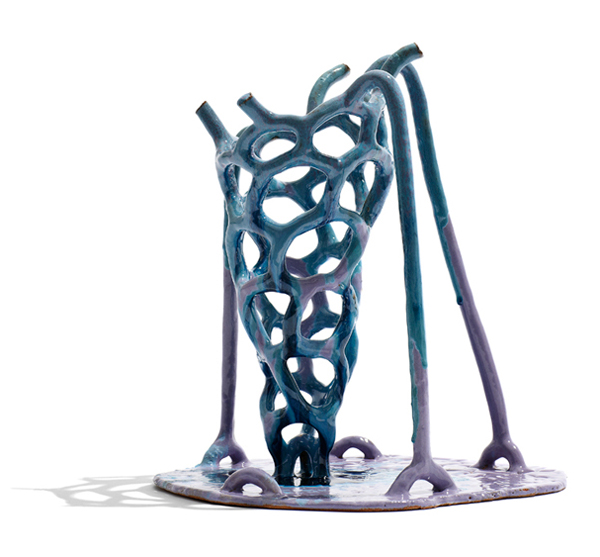 Bente Skjøttgaard: Turbulence no 1331, 40 x 35 x 33 cm, stoneware, 2013
Photo Jeppe Gudmundsen-Holmgreen








Design Miami/Basel, Basel, Switzerland
Represented by Galerie Pierre Marie Giraud, Belgium





7, rue de Praetere
1050 Brussels | Belgium
www.pierremariegiraud.com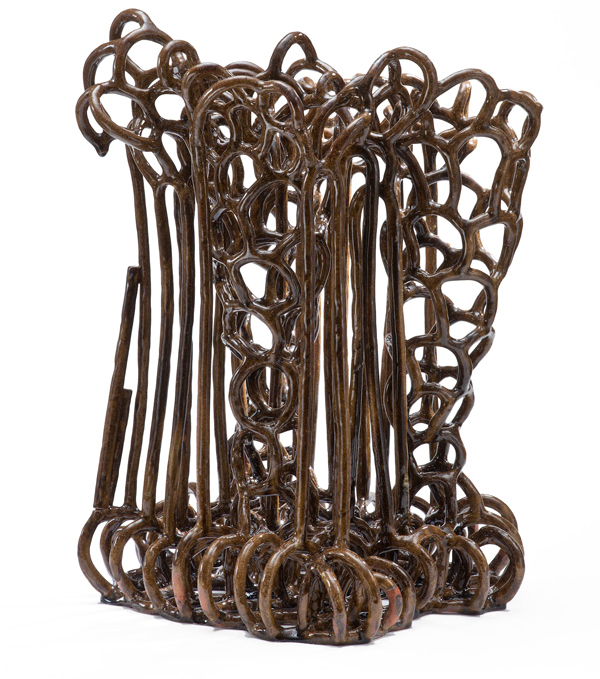 Weather no 1312, H 60 x 47 x 42 cm
Stoneware and glaze 2013
Photo: Ole Akhøj







Silkeborgudstillingen 2013: Det ville glæde os at se / We would be delighted to see you.





Art Center Silkeborg Bad, Silkeborg, DK
www.silkeborgbad.dk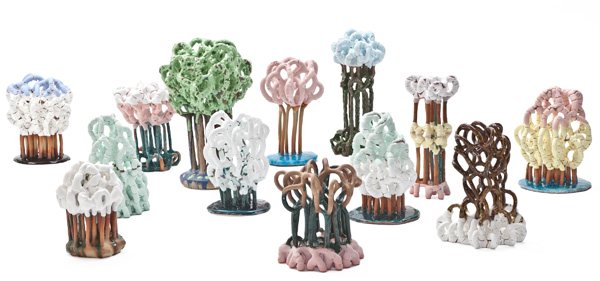 The Cloud Forest 2013
Photo: Ole Akhøj







Glasurglæder / Glaze Joys

Artist Talk with Bente Skjøttgaard on Saturday 4 May at 3 pm

Vejen Kunstmuseum
Østergade 4
6600 Vejen
www.vejenkunstmuseum.dk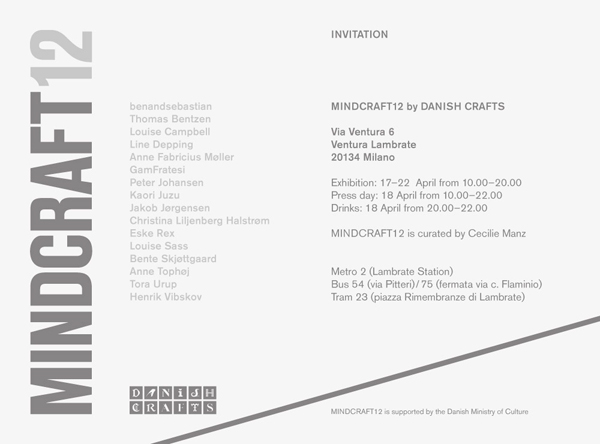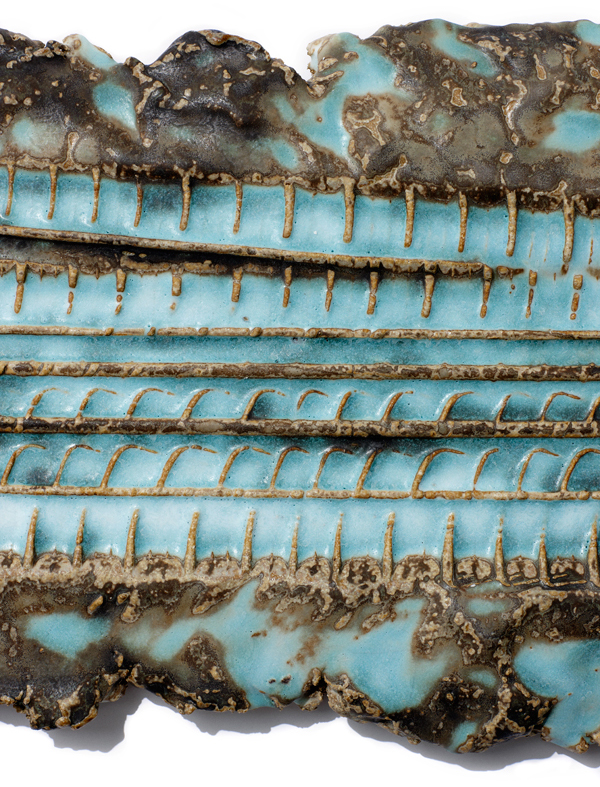 Frieze P7: A decorative frieze with a contemporary ornament

The frieze is a classic within ceramic decoration that I first felt like referring
to in this project, where we are talking about friezes with relief patterns from
car tyres – Pirelli P7 tyres, to be precise. Using these, I have explored the
possibilities of creating a modern frieze ornamentation.
Stoneware clay with chamotte and fibre are thrown down to form a long track.
After that, a car drives slowly through the clay in a single track. A direct imprint.
Glazed and fired at 1,280°C. The project was realised at Tommerup Keramiske Værksted
on the island of Funen.
Frise P7 is a perpetuated imprint in fired clay of our own Fiat Multipla, and
at the same time a very recognisable trace of our own age. The P7 tyre pattern
forms a beautiful relief in the clay. The length of the relief is important,
bearing in mind that it is to be a frieze, but also because we are dealing
with a track, a trace. The relief pattern forms a basis for the ceramic glazes.
They can run down into cracks and pull away from edges and thereby accentuate
the pattern. In other, the track can be partially camouflaged by a thick layer
of glaze. It depends completely on the nature of the glaze to what extent the
tracks become prominent. Some more directly than others. Others perhaps more
like a pattern that an actual car track. What also interests me is the clash
between this mechanical, industrial imprint and the clay. Apart from the ability
of clay to perpetuate the imprint, it is a soft, sensual and tactile material.
One can also speak of an intervention when the clay is exposed to being directly
driven over by a car. Despite this, the friezes are not only violent and
expressive but also provide food for quiet contemplation.
The Frise P7 project is of course a continuation of my contribution to the Danish
Arts Foundation project 'Art along Hærvejen' in 2010, where I let cows of the
'Jutland cattle' breed, which used to be driven along the ancient road Hærvejen
in the old days, leave imprints of their cloven feet in an approx. 40 sqm red-clay
relief, which has now been put down at the Hærvejen nature trail, close to the
village of Bække in Central Jutland. And behind this, there is of course a greeting
being sent to Asger Jorn's large-scale ceramics relief from 1959 at Århus
Statsgymnasium upper secondary school, where Jorn, as is well known, rode his
scooter through the clay while making the work.

Bente Skjøttgaard 2012







PERTURBATIONS

Musée Fabre (Hôtel Sabatier d'Espeyran)
13 rue Montpelliéret
34000 Montpellier France
co-organiseret af Ateliers d'Art de France og Musée Fabre









Cuts and interventions, Bodil Manz and Bente Skjøttgaard
Vernissage on February 2 at 5 – 8 pm.
Artist talk on February 4 at 2 pm
Copenhagen Ceramics www.copenhagenceramics.com
Smallegade 46, baghuset 2.tv, 2000 Frederiksberg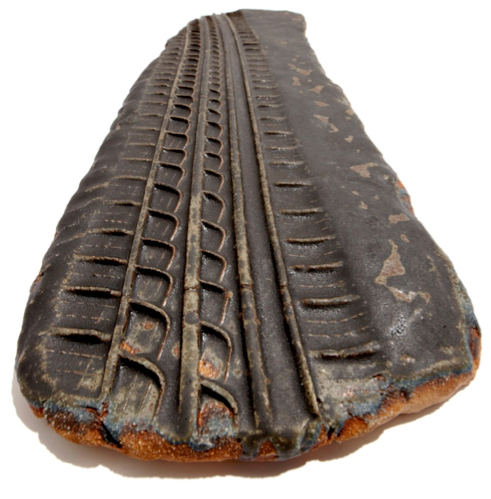 Frieze P7
Photo Jeppe Gudmundsen-Holmgreen









Opening of Copenhagen Ceramics, a new exhibition space for ceramics in Frederiksberg, Copenhagen.
Smallegade 46 baghuset 2 tv.
www.copenhagenceramics.com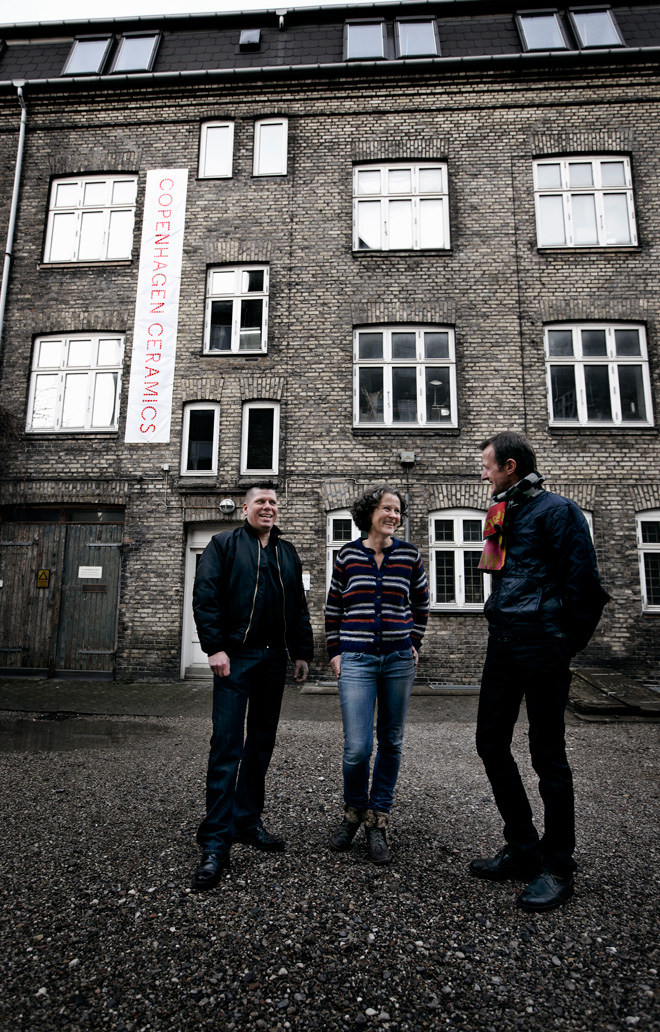 The CC- Crew: Steen Ipsen, Bente Skjøttgaard and Martin Bodilsen Kaldahl
Photo Jeppe Gudmundsen-Holmgreen





The Gyeonggi International Ceramix Biennale 2011
Icheon, South Korea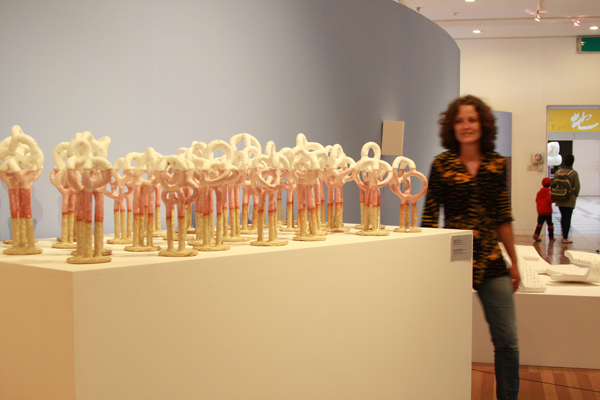 Pink Clouds Field no 1036
30 clouds, total 42x165x75 cm
Photo: Paulina Gomez Riebeling







KIAF 2011, Korea International Art Fair Seoul
Galerie Maria Lund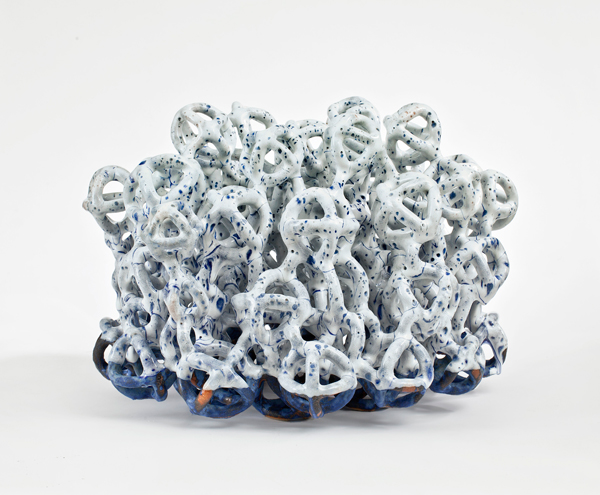 Blue white cloud no 1116
38x55x45 cm
Photo Ole Akhøj







Opening of SuperFormLab
www.dkds.dk/nyheder/SuperFormLab
New workshop for three-dimensional form and materials at The Royal Danish Academy of Fine Arts, Schools of Design.
Refshalevej 213, 1432 København







Mise en oeuvre, le quotidien et l'exceptionnel sous l'oeil du design
Céramique contemporaine
Sèvres – Cité de la céramique
2 place de la Manufacture
92310 Sèvres, France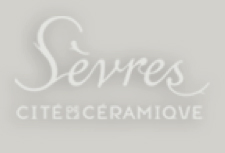 Biennalen for Kunsthåndværk og Design 2011
Nominated for the Biennial Prize

Museet på Koldinghus
Markdannersgade 11
6000 Kolding
Denmark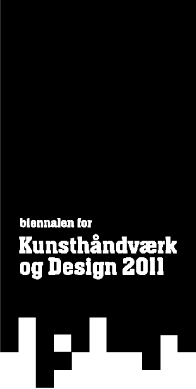 See more here:
http://www.koldinghus.dk
http://www.facebook.com/video
Jydske vestkysten







16ème Biennale internationale de la céramique – Châteauroux
Thème 2011 : Construire et Élever la matière

Couvent des Cordeliers - musée de Châteauroux
2 rue Alain-Fournier
36000 Châteauroux
France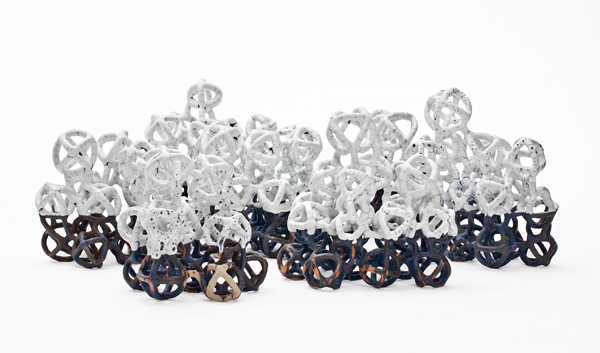 Clouds field no 1037
7 clouds, total 45 x 130 x 80 cm
Photo Ole Akhøj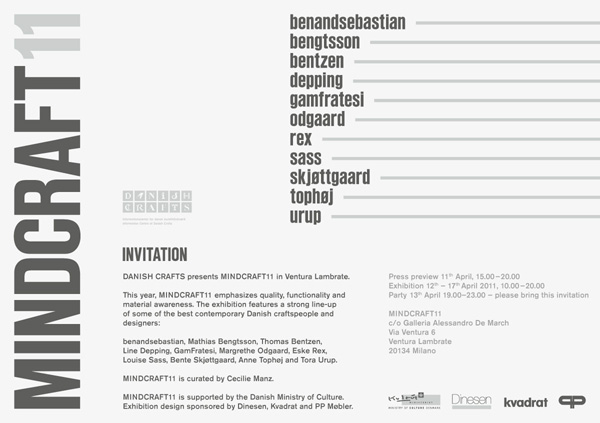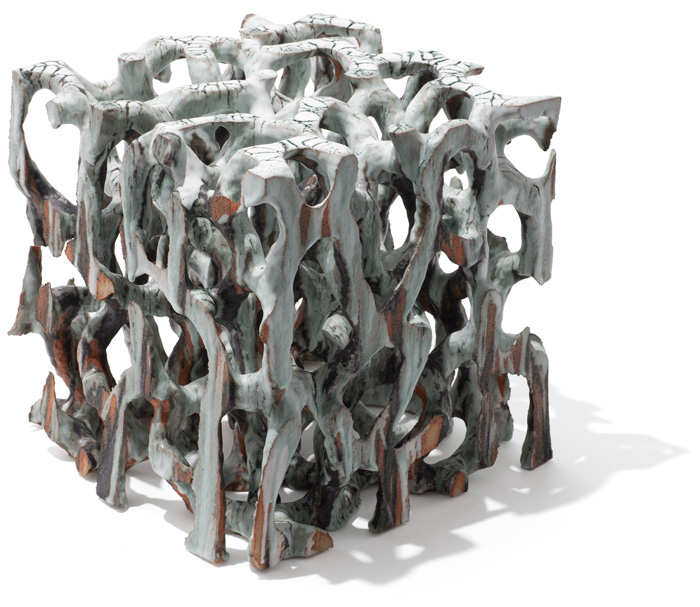 MACRO CUBE no 1101
Stoneware
47x47x47cm

Part of Danish Crafts' exhibition MINDCRAFT11
Photo: 2011 Danish Crafts / jeppegudmundsen.com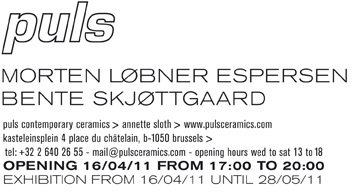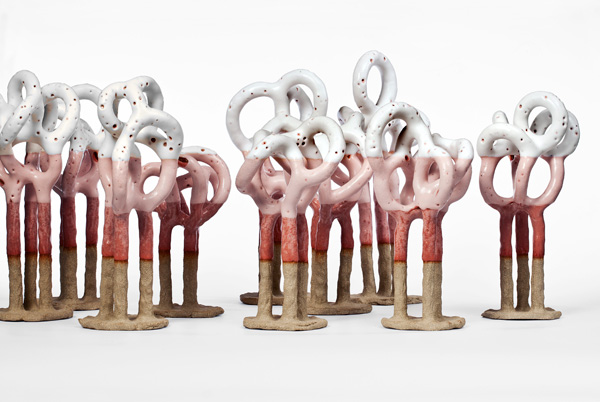 Clouds field no 1015
H.35 cm, 2010







"Traces" an artwork on the ancient road, Hærvejen.
15.00 Opening in the field.
Main road 417, close to Hærvejen picnic area. 5 km north of the town Bække.

Click on links for more information:
The opening, reportage by Stig Benzon
Traces on Hærvejen, a documentary by Rikke Rørbech.
Part one
Part two

Vejen Kunstmuseum
KOT, Vejen Kunstmuseum

Click on the map to view location in detail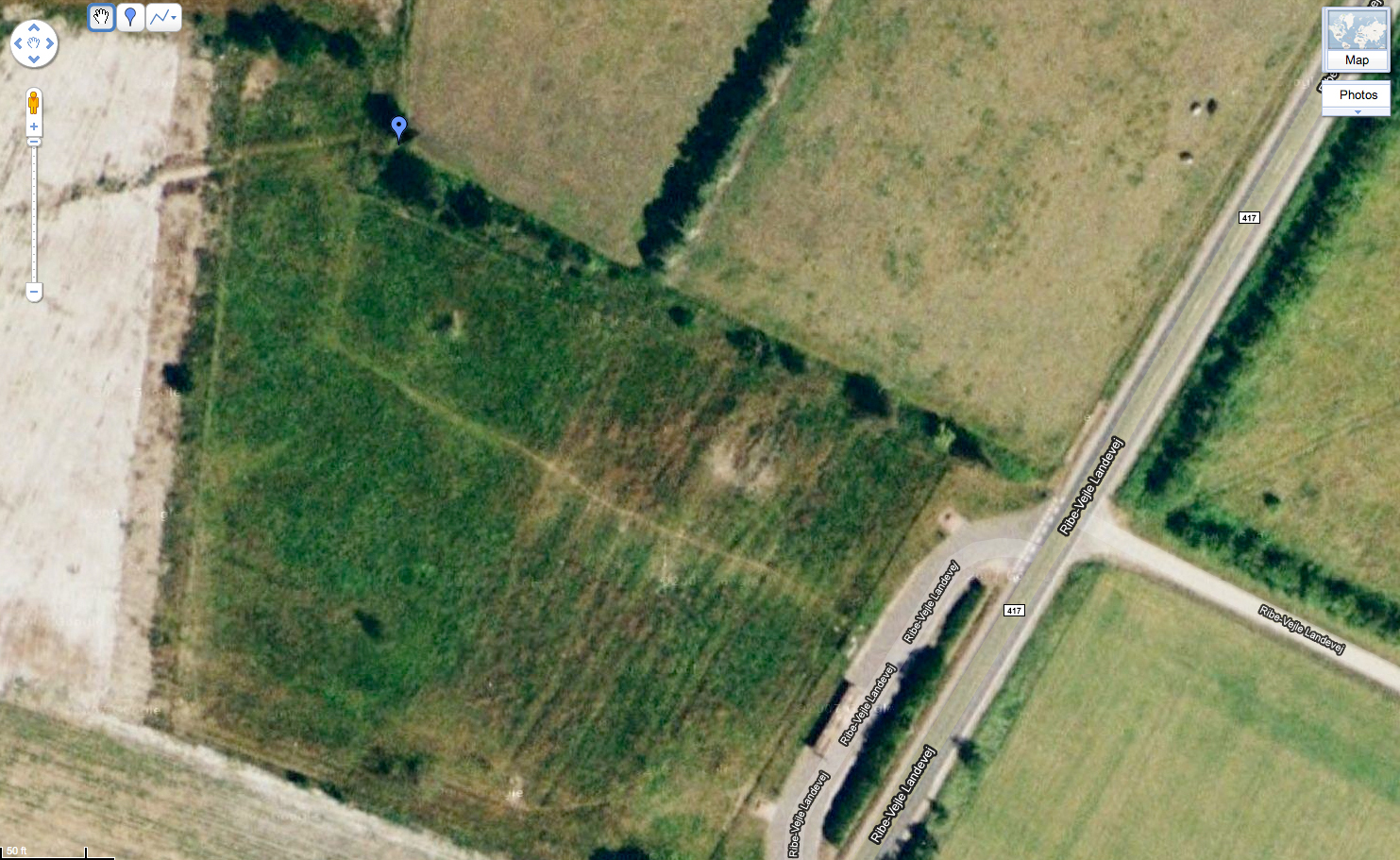 See the whole process under Works 2010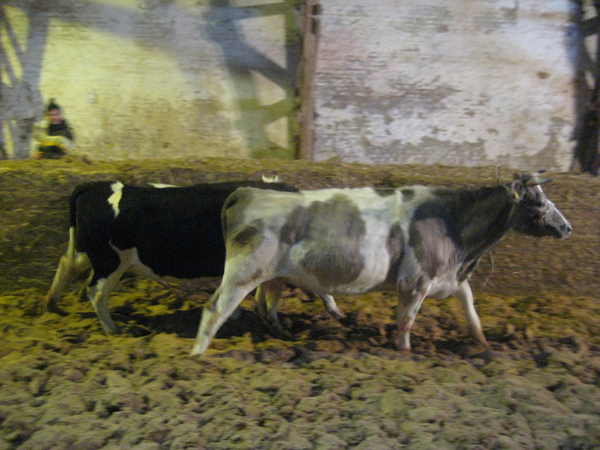 Bente Skjøttgaard: "Cumulus", ceramic sculpture
Galleri Ann Linnemann
http://annlinnemann.blogspot.com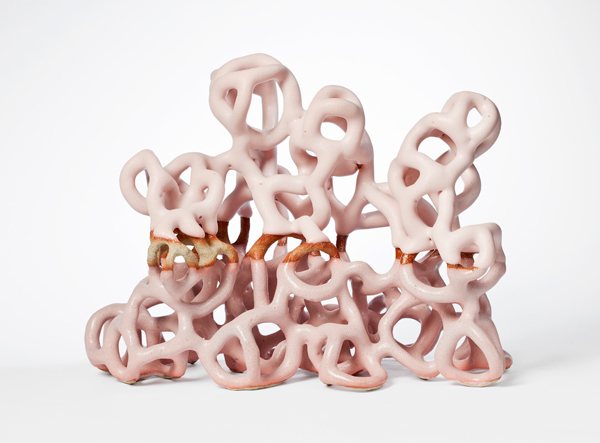 Bente Skjøttgaard: "in the clouds", ceramic sculpture
Galerie Maria Lund, Paris
http://www.marialund.com

OPENING: Thursday 2nd September 2010 from 6 to 9pm, the artist will be present.
Late night openeing: around a drink
Friday 17th September 2010 from 6 to 9 pm
for the Rencontres AIC in Paris
(The International Academy of Ceramics - http://www.aic2010.com)
the artist will be present.


Between earth and sky, or, more specifically between clouds and mud, for a while now, Bente Skjøttgaard has been working both above our heads and below our feet. In the clouds is her fourth exhibition in Paris. It is the fruit of an almost contradictory attempt to materialise in clay the light and ephemeral qualities of clouds. Funny coincidence, as it was developed parallel to a public commission for a monumental piece, Traces, where she is inspired by the imprints of bovine hooves still visible in the ground of the historic axis Hærvejen, which formerly connected the Danish breeders to the German markets.

Bente Skjøttgaard's interest for the 'higher spheres' began two years ago, during her first visit to South Korea where she discovered the country's ceramic tradition, notably the celadon and moon jars. Soon after, her first clouds were born, sort of growths where interlaced columbine structures rise above very fine 'trunks'. The palette combines immaculate whites and cobalt blues, with reference to the blue/white porcelain tradition. Rapidly, the clouds spread horizontally or, on the contrary, become more dynamic, rotating, on the verge of expanding to form lazy floats, or sometimes vivid.

A second voyage to the "land of the calm mornings" in 2009, brings a strange vision to her: barely perceptible spheres seem to fill the air of a hazy evening. These circular, three dimensional and graphical forms join, from then onwards, the cloud constructions; in certain sculptures, they even create very free organic structures in a sequence of circulars and cavities. The chromatic research tends towards the psychedelic: Lucy in the sky is not so distant when one contemplates the turquoise blues, the mauves and pink variations, the light yellows and acid greens which have seized the clouds. The whole celestial spectrum in its incredible diversity is represented here, either harmoniously or with strong contrasts created through the use of copper oxides, chrome or stains.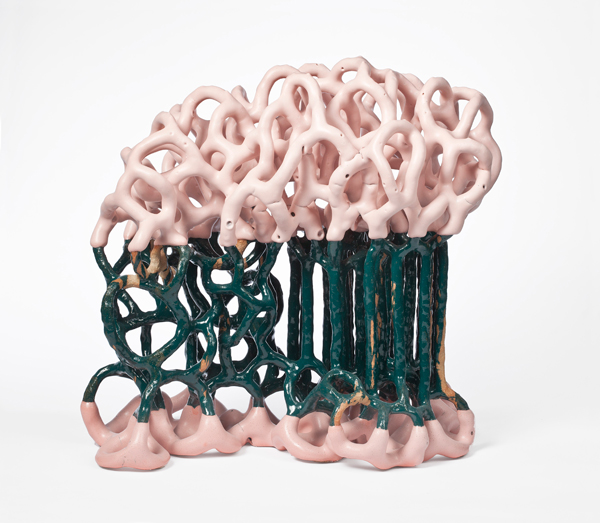 Biennale Internationale de Vallauris — Création contemporaine et céramique / BICC
http://www.vallauris-golfe-juan.fr/-BICC-2010-.html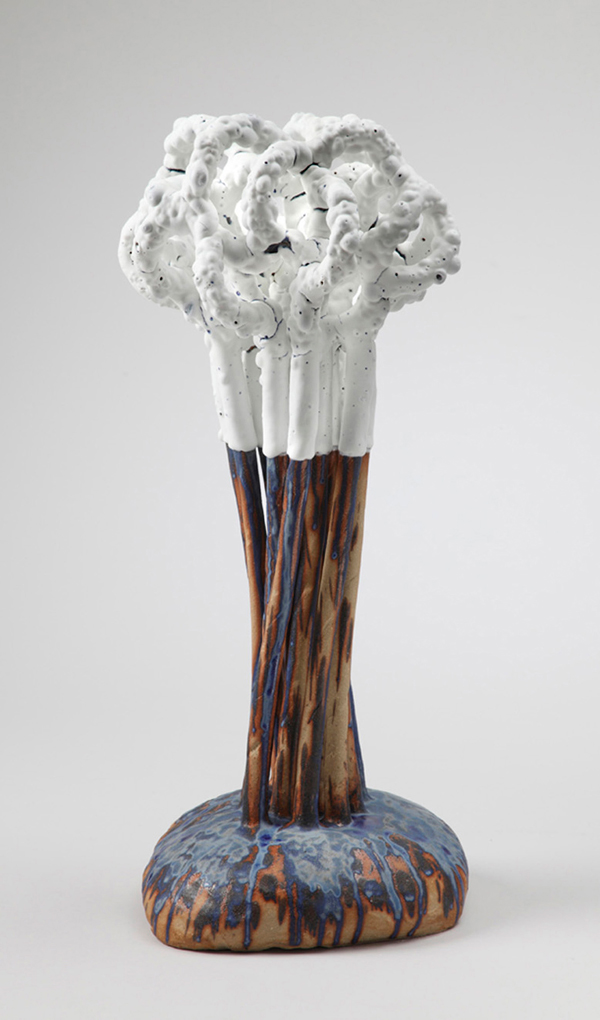 Gallery: Contemporary Ceramics, room 141, Victoria & Albert Museum, London
http://www.vam.ac.uk/collections/ceramics/new_ceramics_galleries/phaseone/index.html

Frozen no. 0747
Donated by Annie & Otto Johs. Detlefs Fond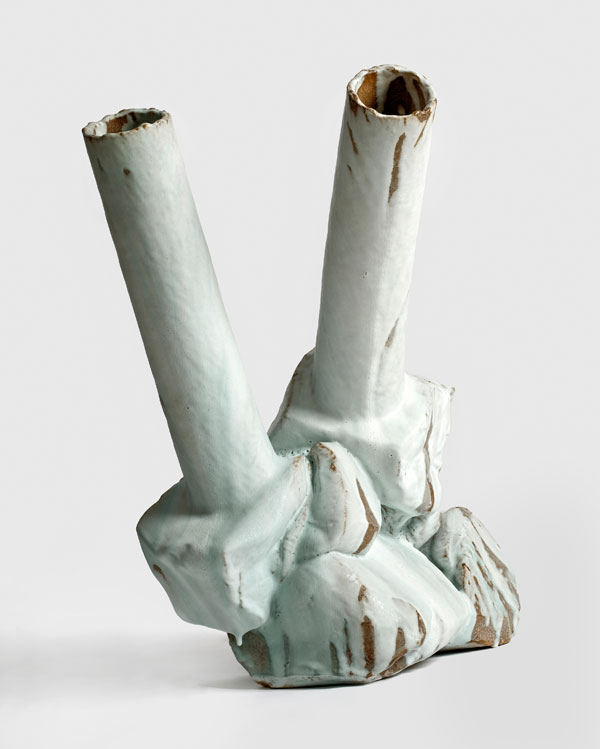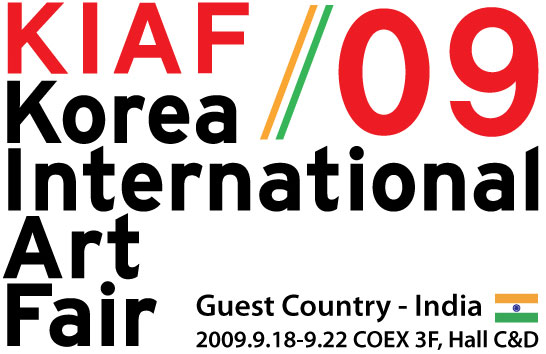 KIAF 2009
Korea Interenational Art Fair
www.kiaf.org
www.marialund.com






www.ville-chateauroux.fr/fileadmin/user_upload/pdf_agenda/Biennale_de_ceramique_de_Chateauroux_com_presse.pdf





The Invitational World Contemporary Ceramics Exhibition "Adventures of the Fire"
Icheon World Ceramic Center, Gallery 3, 4

San 69-1 Gwango-dong, Icheon-si
Republic of Korea

www.wocef.com